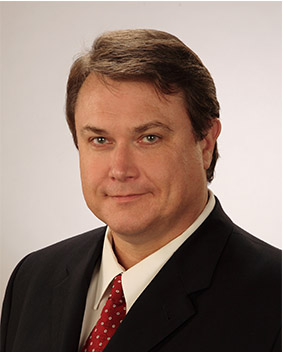 Wayne R. Terry's practice is concentrated on business and commercial litigation, including creditors' rights, U.C.C. and secured transactions, and real estate, as well as bankruptcy litigation through his representation of creditors in bankruptcy cases nationwide.  Mr. Terry is the head of litigation at the firm, and the co-managing partner.
Mr. Terry received his undergraduate degree from the University of Texas at Austin. He also earned his law degree from the University of Texas in 1985, where he graduated with honors. He subsequently clerked for the United States Bankruptcy Court for the Central District of California.
In addition to all types of business and commercial litigation, Mr. Terry has extensive experience in transactional documentation and bankruptcy contingency planning in real and personal property transactions, including film licensing and distribution deals and commercial leases. He has substantial expertise in bankruptcy issues related to issuance of asset-backed securities, including the law of "true-sale," substantive consolidation and bankruptcy-remote transaction structure.
A seasoned and accomplished litigator, Mr. Terry is admitted to all four U.S. District Courts of California, and the Ninth Circuit Court of Appeals. He is a member of the American Bankruptcy Institute, the Los Angeles Bankruptcy Forum and the Financial Lawyers Conference. Mr. Terry is also licensed to practice law in Texas.
Mr. Terry supports various cancer charities, as well as charities providing musical instruments and other needful things to schools and programs serving underprivileged children.